Information booklets / PRE-ORDER Looking after someone 2020 – pack of 20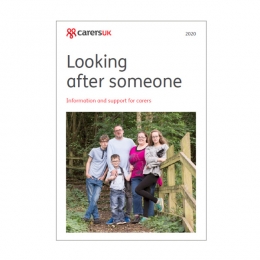 PRE-ORDER Looking after someone 2020 – pack of 20

A5 information booklet

We also offer this guide individually or in packs of 100

'Looking after someone' is our guide for anyone caring for family or friends. The guide outlines your rights as a carer and gives an overview of the practical and financial support available.

Looking after someone 2020 is being launched as part of Carers Rights Day 2019, on Thursday 21 November.

The guide will begin shipping from early November, but you can place your order now to guarantee the earliest possible delivery.

If you have any questions, please email comms@carersuk.org
*Please note: The booklets are supplied free of charge, you just pay the postage and packing fee
£0.00