Factsheets / Help with Council Tax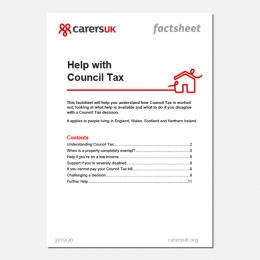 Help with Council Tax

A4 factsheet – UK1024

16 pages

This factsheet will help you to understand Council Tax, looking at what help is available and what to do if you disagree with a Council Tax decision.

The information in this factsheet applies to people living in England, Wales and Scotland.

This factsheet is available as a free download on the Council Tax page on the Carers UK website. Next review due April 2019.

If you would like to order more than 20 copies, please email comms@carersuk.org
£1.00
You might also be interested in

Looking after someone 2019

Carer's Allowance