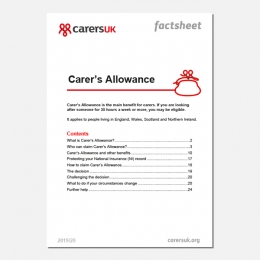 Carer's Allowance

A4 factsheet – UK1025

20 pages

Carer's Allowance is the main benefit for carers. If you are looking after someone for 35 hours a week or more, you may be eligible.

This factsheet applies to people living in England, Wales, Scotland and Northern Ireland.

This factsheet is available as a free download on the Carer's Allowance page on the Carers UK website.

If you would like to order more than 20 copies, please email comms@carersuk.org
£1.00
You might also be interested in

Bedroom tax

Looking after someone 2019