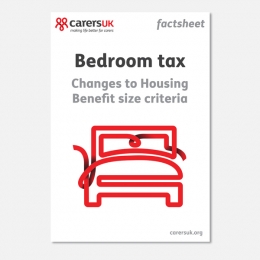 Bedroom tax

A5 factsheet – UK1023

12 pages

Major changes have been brought in to how support is provided to people who need help with their rent through Housing Benefit.

One of these changes is called the Housing Benefit Size Criteria Rules. This is commonly referred to as the 'bedroom tax', or the Government calls it the 'removal of the spare room subsidy'.

The information in this factsheet applies to people living in England, Wales and Scotland.

This factsheet is available as a free download on the bedroom tax page on the Carers UK website.
£1.00
You might also be interested in

A4 Posters

Help with Council Tax

Looking after someone 2019