Factsheets / Attendance Allowance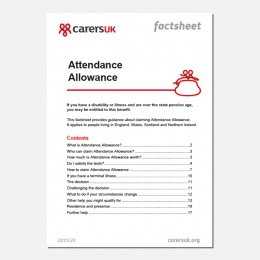 Attendance Allowance

A5 factsheet – UK1027

20 pages

If you are looking after someone who has a disability or illness and is aged 65 or over, they may be entitled to Attendance Allowance.

This factsheet can be used if you are claiming Attendance Allowance on behalf of the person you are looking after or for yourself. The information is written from the point of view of the person claiming the benefit. It applies to people living in England, Wales, Scotland and Northern Ireland.
This factsheet is available as a free download here.

If you would like to order more than 20 copies, please email comms@carersuk.org

New version will be available from 9 April due to rate changes.
£1.00
You might also be interested in

Carers and their Rights (General)

Looking after someone 2019