Factsheets / Assessments and the Care Act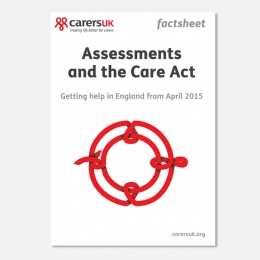 Assessments and the Care Act
Getting help in England from April 2015
A5 factsheet – E1029
28 pages
This factsheet contains information about the new system of care and support that will come into place in England on 1 April 2015 when the Care Act 2014 and the Children and Families Act 2014 are implemented.
New rights entitle carers and the people they care for to a clear right to an assessment of their needs regardless of their income and finances or their level of need. Young carers and the parents of disabled children are also included in the new system.
This factsheet is available as a free download on the
Care Act
page on the Carers UK website.
£1.00