Information booklets / Looking after someone 2018 – pack of 100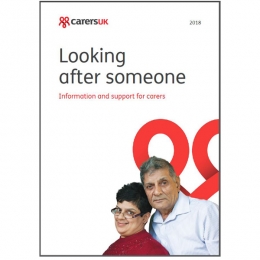 Looking after someone 2018 – pack of 100

A5 information booklet

28 pages

If you are looking after someone, find out about your rights as a carer and where you can go for financial or practical help.

Looking after someone' is our guide for anyone caring for family or friends. The guide outlines your rights as a carer and gives an overview of the practical and financial support available. It is divided into the following sections: getting help and support, your finances and your work. This edition includes A Carer's Guide, an illustrated introduction to the challenges of caring, from making difficult decisions to looking after your health and wellbeing

All versions of the Carers Rights Guide are available as a free download on the Carers UK Website

The Carers Rights Guide 2017 is being launched as part of Carers Rights Day on 24 November 2017.

As many benefit payments will be devolved from UK Government to Scotland, the 2017 Looking after someone guide has not been refreshed for Carers Rights Day this year. Instead, we will look to reproduce the guide in April 2018 when we know more. In the meantime, please read the advisory note on what payments may change.
£45.00
You might also be interested in

Promotion

Books

Factsheets