Factsheets / Coming out of hospital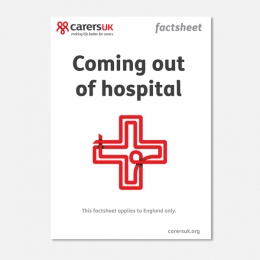 Coming out of hospital

A5 factsheet – E1014
16 pages
Deciding to care or continue caring for someone who is coming out of hospital and who can no longer care for themselves in the same way as before can be very difficult.
This factsheet outlines your rights as a carer during the hospital discharge procedure, the steps that should be followed before the person you care for is discharged from hospital, and what to do if things go wrong.
The information in this factsheet applies to people living in England only.
This factsheet is available as a free download on the Coming Out Of Hospital on the Carers UK website.
£1.00
You might also be interested in

Pen

Information booklets