Books / Carers and their Rights (England)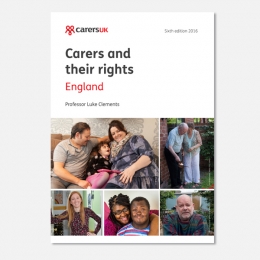 Carers and their Rights (England)
A4 publication, 108pp

Carers and their Rights is Carers UK's definitive guide to the legal rights of carers as they apply in England.

Now in its sixth edition, the guide has been fully updated to reflect the new rights for carers as part of the Care Act 2014, the Children and Families Act 2014 and other relevant guidance and legislation.
Get five copies for £60 (one copy free)

Carers UK Affiliate members get a 30% discount on this product. Email comms@carersuk.org to be sent the discount code.
£15.00
You might also be interested in

Carers and their Rights (England) PACK OF 5

Promotion

Factsheets